CONTACT OUR PODIATRISTS FOR PODIATRY CARE
Our mission at Foot & Ankle Concepts, Inc. is to provide exceptional surgical and general podiatric care. Our experienced podiatrists are some of the most qualified foot and ankle doctors in the country.
Whether you have a foot or ankle condition or a trauma needing routine or emergency treatment, we're here to help you. All you have to do is call us to make an appointment.
Many of our patients admit that it took them a long time to contact us. The American Podiatric Medical Association (APMA) reports that most people have foot pain, but only 30% will actually seek treatment for it. People don't give their feet enough care, which can turn a minor issue into a major foot problem.
A medical problem with your foot or ankle is just as serious as any other medical condition. Even though you may not hear many people talk about their foot issues, 75% of Americans experience foot health problems sometime in their life. And the average person with foot problems will visit a podiatrist about 4 times a year.
The need for a podiatric appointment is even greater as people age; Medical Economics reports that 56% of elderly have seen a podiatrist. The most common issues include hammertoes, metatarsal and rearfoot issues, and bunions.
Medicare reports that 83% of elderly will schedule an appointment with a podiatrist for a hammertoe procedure, 67% for metatarsal issues, 77% for a bunionectomy, and 47% for rearfoot surgery.
Our podiatrists are experienced with all of these foot related issues, and much more. We specialize in surgical and non-surgical foot and ankle treatments including:
Nail Problems
Warts
Pediatric Foot Problems
Hyperpronation Flat Feet
Neuromas
Podiatrists
Orthotics
Fractures
Arthritis
Fractures
Diabetic Wound Care
Hammer Toes
Fat Pad Augmentation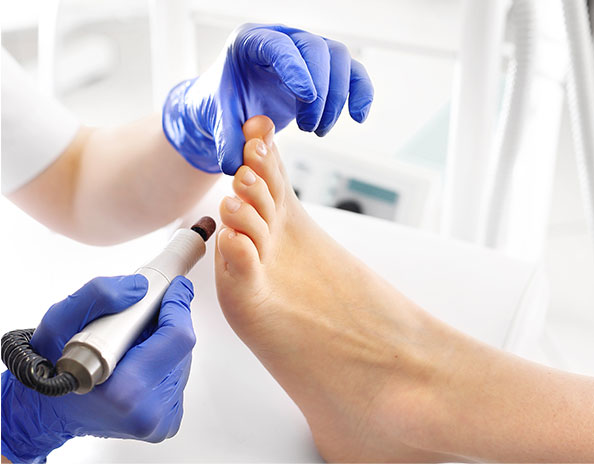 Most of these issues can be easily treated with just one visit, while others may require continued treatment. Our team of podiatric specialists will do their best to make every visit comfortable and productive to help relieve your pain.